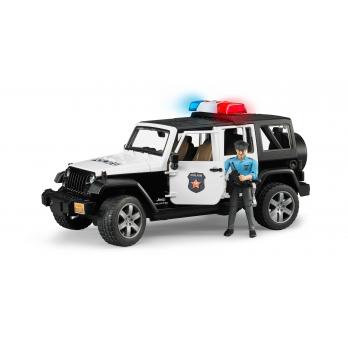 Bruder
Jeep Wrangler
Police Vehicle With Figure
63229
Low stock - 3 items left

Inventory on the way
The BRUDER product range is very extensive. Numerous vehicles for construction, emergency services, commercial vehicles, leisure time, agriculture and forestry are cherished the world over thanks to their exciting toy worlds at a scale of 1:16.
Just like in normal life, an increasing amount of BRUDER vehicle traffic means traffic violations are on the rise. For this reason, bworld now also features a police force to enforce law and order.
The service vehicle is based on the familiar Jeep Wrangler Unlimited and it features the appealing and striking colour design typical in the US as well as a hazard warning light module fitted on the roof.
The Jeep Wrangler Unlimited Rubicon has been designed as a police vehicle and it provides countless functions to enable almost unlimited fun and games. In addition to the two-part, detachable segment roof, the bonnet, rear door and all four side doors open. It goes without saying that the vehicle provides enough space on the inside for four BRUDER bworld figures. Alternatively, the rear seat can be removed to create space for accessories compatible with BRUDER standard connectors in the loading area. The additional drag link is intended to facilitate steering through the roof hatch and if it is not required, it can be stored in the vehicle underbody. The axles feature typical off-road vehicle suspension and tread tyres with wheels in appealing SUV design. The front interface, suitable for items including the optionally available cable winch and the detachable drawbar coupling, means there are unlimited possibilities for enhancements in the world of BRUDER. The police version of the Jeep model features a newly developed light and sound module featuring four functional buttons (1. engine sound, 2. police siren, 3. fire service siren, 4. yelp signal). The bworld police officer is fully equipped to reinforce the authority. The waist belt features important tools for day-to-day police work, such as torch, radio device and truncheon.
19.8 x 7.4 x 6.8 inches