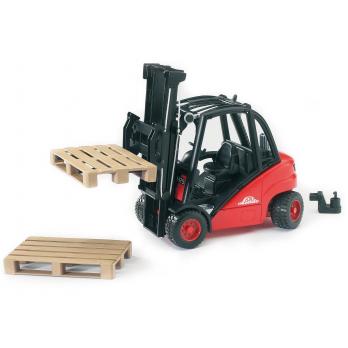 Low stock - 10 items left

Inventory on the way
The Linde H30D forklift is an industrial stacker that is in fact operated with diesel or gas. The impressive original in Porsche design presents a very attractive template for the toy model. The stacker is equipped with a double-stage lift mast whose lift and tilt function can be operated with one hand. The hydraulic pitch cylinders mounted in the roof are used for setting the tilt of the lifting mast. The model has easy-to-operate steering that enables the children to manoeuvre a load in the tightest space just like the original. The fork prongs are, of course, adjustable and detachable. Two Euro pallets are included. Tread tyres complete the picture. By using the enclosed drawbar coupling the stacker can, for example, be combined with the single-axle trailer, art. no.: 02244 and art. no.: 02027. To add to the playing fun, the forklift can be equipped with the accessories set, art. no.: 02008, consisting of basket pallet, winch, pallet forks and loading prongs, (not included).
11.42 x 3.62 x 8.66 inches