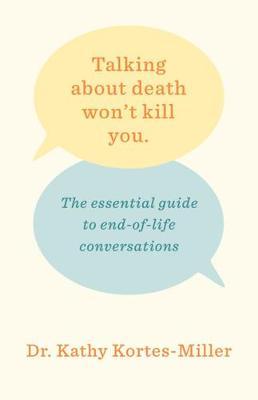 Talking About Death Won't Kill You: The Essential Guide to End-of-Life Conversations
71471
Low stock - 2 items left

Inventory on the way
This practical handbook will equip readers with the tools to have meaningful conversations about death and dying
Death is a part of life. We used to understand this, and in the past, loved ones generally died at home with family around them. But in just a few generations, death has become a medical event, and we have lost the ability to make this last part of life more personal and meaningful. Today people want to regain control over health-care decisions for themselves and their loved ones.
Talking About Death Won't Kill You is the essential handbook to help Canadians navigate personal and medical decisions for the best quality of life for the end of our lives. Noted palliative-care educator and researcher Kathy Kortes-Miller shows readers how to identify and reframe limiting beliefs about dying with humor and compassion. With robust resource lists, Kortes-Miller addresses
advance care plans for ourselves and our loved ones how to have conversations about end-of-life wishes with loved ones how to talk to children about death how to build a compassionate workplace practical strategies to support our colleagues how to talk to health-care practitioners how to manage challenging family dynamics as someone is dying what is involved in medical assistance in dying (MAID)
Far from morbid, these conversations are full of meaning and life -- and the relief that comes from knowing what your loved ones want, and what you want for yourself.